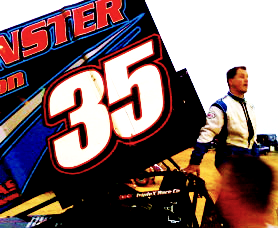 WE WON!  Imagine our excitement when hearing the news that the 358 Super Sprint car that Westminster Lawn Landscape Supply Yards sponsors won the Trone Outdoor Advertising Championship Event on Friday evening, September 30, 2011 at Trail-Ways Speedway in Hanover, Pa.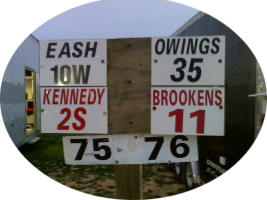 The #35 car is driven by Steve Owings, a close family friend, who has been racing since childhood. This was the final race in the 2011 series at Trail-ways, and Steve won two others this season as well, on June 3, and the opener on April 15 of this year.  His overall points standing puts him in 15th position, with 449.00 points. He also had 3 heat wins this year.
This was a great way to finish what can be a frustrating sport. Steve had his ups & downs this year, along with several costly crashes and breakdowns, but his persistence paid off. "We came out of the box fast, and it was nice to get a win at the end," he said in victory lane.Steve started sixth in the race, which ran for 30 laps.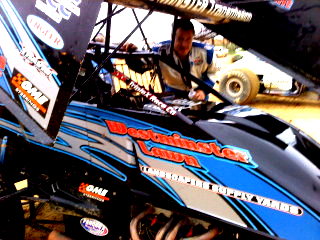 He took the lead exiting turn four of Lap 13 by lapping traffic before the second caution of the event. Coming off turn two of Lap 24, Steve made contact with Joe Trone, Jr., losing much of the lead. The only red flag of the event occurred when a crash between Mike Duncan, Jr., and Randy Whisler flipped Duncans' car on turn four of Lap 27. On the restart, Steve took off ahead of the field to victory lane, to claim the $2,000 prize.
We are proud of his work ethic, his grit, and his aggressiveness on the track, which makes for exciting viewing for the fans. More information can be found on the Trail-Way Speedway website, including the roster and stats. Steve also raced at Lincoln Speedway in Abbottstown, Pa. this year.
Westminster Lawn has been sponsoring Steve's 358 Super Sprint car for over 15 years, as a way of supporting a talented family friend in an exciting community event.  "This is a great race track, and it's a lot of fun racing here," Steve said of the Hanover, PA venue.  "If you don't get excited about the racing here at Trail-Way, you just don't like racing."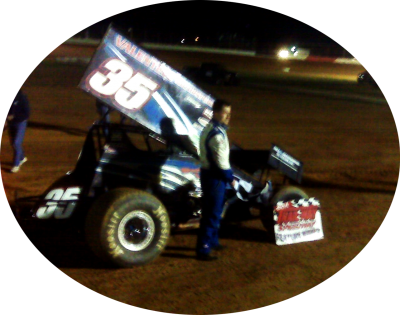 In 1987 Westminster Lawn Landscape Supply Yards expanded to include a location in Hanover, providing premium topsoil, mulch, stone and sand to commercial businesses and private homeowners from our Pennsylvania location, located just off Rte. 94.