Using Decorative Stone as Unifying Landscaping Element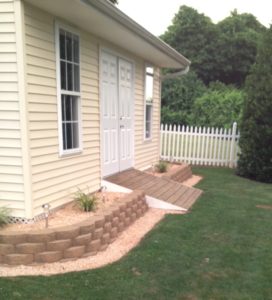 Designing an integrated landscape using decorative stone as ground cover can create a lasting sense of continuity throughout your landscape, creating beauty in all seasons. Curbside appeal will increase the value of your home exponentially, as well as increase enjoyment of your outdoor space. Decorative stone acts as mulching in beds and along walkways. This provides a long lasting weed deterrent and unifying multiple areas of the scenery.
This home utilizes Brown River Stone for the unifying material. Brown River Stone is in beds around the front, sides, and rear of the property.
Landscaping around an outside storage shed ties the structure in with the landscaping on the rest of the site.
Across the lawn from the storage unit, the raised beds in back of the home showcase additional landscaping elements with more elaborate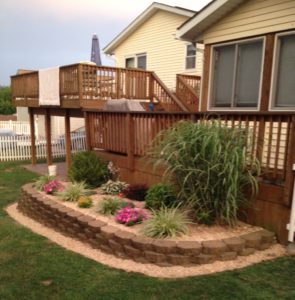 plantings. Utilizing Brown River Stone along the retaining wall of the raised bed unites the landscaping element with the material within the raised planter. This creates a buffer zone leading into the lawn area. Smooth rounded stone in this setting is not only visually pleasing. It is also easy on bare feet, should someone step off the grass. Further, the buffer away from the wall allows for easier mowing access, eliminating the need for weed eating in this area.
The front yard employs showcase plantings and color. The theme of Brown River Stone along the retaining wall buffering the lawn is continued. Once again, this design allows for easy mowing, little weed-eating, and easier access to raised beds for plant care.