As the extension of your home, your yard is the closest escape you have from life's daily grind. It performs multiple duties that include a play area for your kids, an extended dining area where the rest of the family enjoys hearty meals, and a place where you can entertain your guests. It also plays an integral role in your home's curb appeal.
However, if you are just like many homeowners, there is a strong chance that you avoid updating the existing landscape design of your yard simply because you feel that the task is both expensive and time-consuming. You must keep in mind though that the current look of your yard can significantly affect how people view your home and may also reduce the resale value of your property if you are planning to sell it in the future. Of course, you do not want to put your home in a bad light. Hence, it is worth giving up a weekend or two to reinvigorate the look of your yard.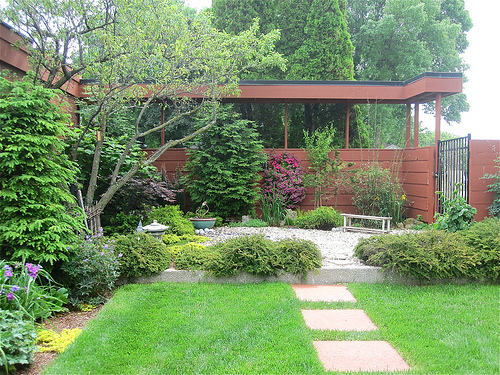 Below are some suggestions to freshen up the look of your yard without necessarily making a huge investment in both time and money.
Do some trimming
One of the best ways to improve the appearance of your yard is to trim overgrown trees and shrubs. The process will not only ensure that your greens will look perfectly fit in your yard's landscape design, but will also encourage the growth of flowers on flowering bushes and will protect your plants against diseases. Simply prune excess interior branches from your trees and shrubs to allow better air circulation on the foliage. Also remove forked stems on the top of trees to make them look more uniformed.
Fix your fence and give it a fresh coat of paint
Bear in mind that your fence does not only help beautify your yard, it also keeps unwanted visitors out of your property. Hence, fix up your fence and make sure that it is in good working condition. Remove rotten posts and change the hardware. For it to blend well with the look of your yard, consider giving it a fresh coat of paint.
Fertilize your lawn
A green lawn instantly adds up to the beauty of a yard. Hence, if you want to ensure that the grasses on your yard maintains their hue, fertilize them at least two to four times each year. The process will only take an hour or two to accomplish, but it will definitely ensure a healthier and greener yard. Fertilizing could also go a long way to prevent weeds from taking over your yard and also makes the grasses more resilient against pests and foot traffic.
Carve out a space where you can entertain guests
Regardless of the size of your yard, it will look more interesting if you add a space for entertaining or relaxing. An outdoor living room does not have to take up a lot of floor space. Simply laying several bricks and flagstones and adding up furniture for seating will make for a great outdoor living room in a compact yard. If you have more space to spare, creating a pergola will surely lend a charming appeal to your yard and provide you a tranquil space for relaxation.
Incorporate a water feature
Integrating a water feature in your yard, be it a bubbler or a pond, can enhance the relaxing mood in your yard and at the same time invites birds into the space. You can actually make a fountain with a basin, water pump, a few accents and a power source. A small pond is also an easy undertaking that can be created using a plastic tub set against the ground.
Citations:
The article above was penned by Ericka. She is also regular contributor for McIntyre Masonry, a family run business based in central Scotland that provides all aspects of stonemasonry services in Edinburgh as well as the Lothian areas.