Homemade Pumpkin Puree and Toasted Seeds!
I have some frozen pumpkin puree in my freezer that I made myself with the Sugar Pie pumpkins from my garden, and I'd like to share the pumpkin puree recipe I used to make it.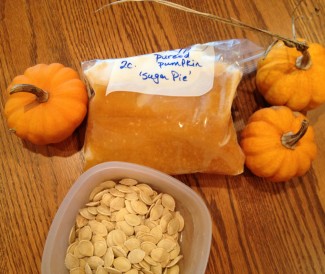 It takes a little more time and effort than just buying it in a can from the store, but the rewards are long-lasting. My freezer is stocked with zip-lock bags containing 2 cup  increments of frozen puree, ready for pies, pumpkin bread, cookies, and more.
If you're not sure what to do with the pumpkin on your front porch when the season is over, here is a productive idea! Of course, your pumpkin should be crisp and fresh, discard any that have signs of rotting or deterioration.
Pumpkin Puree Recipe
Set your oven to 325 ̊ F. Cut the pumpkin in half crosswise, and scoop out strings and seeds. The seeds are delicious and healthy, so save them!
Place the pumpkin halves on a baking sheet, shell side UP, and bake for at least 1 hour, depending on the size of your pumpkin. Watch for it to begin sinking and falling apart as it becomes tender.
When it has softened and cooked through, remove it from the oven and cool.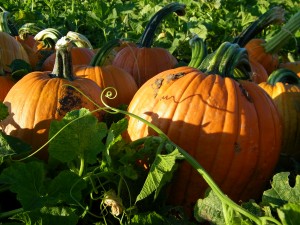 Then scrape the pulp from the shell and run it through a ricer, strainer, or blender. I use an old ricer that my dear departed grandmother used to make applesauce. (I love to use her kitchen things. It makes me feel like she's with me).
Then simply scoop the puree into a 2 cup liquid measuring cup, and pour into zip-lock freezer bags. Press out excess air, and label with a permanent marker. I find that this increment is perfect for most recipes. I think there is a definite difference in the quality and taste of goods made with this healthy homemade puree.
The seeds can be separated from the fiber and rinsed in the sink. Then place them in a sauce pan and cover with salted water.
Bring to a boil, then simmer on low for 1-2 hours. Do not allow pan to dry.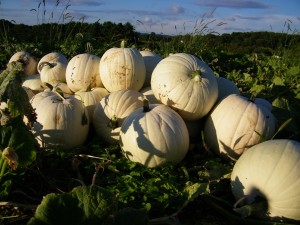 Drain and dry them on paper towels or brown paper. Then, they can be spread on a shallow baking sheet, coated with cooking oil, or melted butter, and seasoned with salt or Old Bay and toasted in the oven at 250 ̊ F until golden brown, stirring occasionally.
Other recipes call for a shorter simmer time on the stove, followed by roasting in a 400 ̊ F oven until browned. Alternative seasonings include paprika, chili powder, cayenne, onion salt, or celery salt. The entire nutritious seed, including the hull, is edible, and is a great source of fiber in the diet.
We at Westminster Lawn Landscape Supply Yards are always looking for healthy recipes for produce from our garden. We all love foods in the Fall utilizing pumpkin, cinnamon, and nutmeg as the temperature dips and the foliage comes ablaze!