"Lettuce, Turnip, and Pea."  Did your mother ever say that to you? I think of it often when it's time to consider what to plant in my garden as Spring approaches. This being the third year that I have planted a garden, I have learned from trial and error. One error has been the size of the garden: it has been too big, and too time consuming. I intend to plant a larger portion of it in flowers this year. I also intend to plant the least wearisome crops for my trouble. For all of the glory of long rows of tall lovely corn, the amount produced was not worth the effort. My carrots weren't sweet, and the effort to prepare and sift the soil was more trouble than it was worth. The deer found my beans, and the peas, so I won't bother with them again. The size of my garden was too overwhelming for a solitary gardener, with an occasional helper. I have other hobbies to pursue.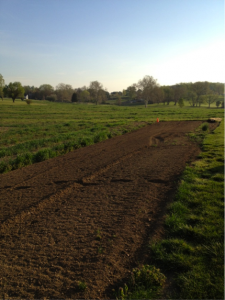 In spite of the bugs and beetles that have plagued my plot, I will still plant potatoes, squash, pumpkins, broccoli, peppers, tomatoes, and onions. The cantaloupe was small, but sweet. Herbs are easy and enjoyable. And I'll be sure to plant spinach, and some lettuce. I had a blazing success with my zinnias, so I intend to enlarge the area I plant with them. I will probably experiment with other cut flowers, as well. The watering, harvesting, and canning and freezing of all those lovely vegetables just about did me in last year. So, the flowers will reign supreme this year.
I have wondered whether it would do the plot good to lie fallow for a year, a very tempting thought in the midst of the work. I considered that the bugs that show up each year might die away if I didn't replenish their food supply. I suspect there is a fungus in the soil that likes my onions. Instead, I will probably top-dress it with fresh Top Soil enriched with Compost  and hope that the fertilizer rich soil will produce healthy crops as well as last year. Even with the onslaught of pests, I still had a sizable harvest, as my freezer still has plenty of bounty in February.  Perhaps abundance is not so bad; some for the pests, and more for me. I'll be sure to rotate crop locations. I make a sketch each year of where I will plant each crop, and can refer to it the following year. If you order your seeds from a catalog, now is the time to get your order together. I purchase most of my plants and seeds locally, which ensures the plants are right for my location.
As we head toward Spring, enjoy the quiet coziness of the last of Winter. Make your plans for the upcoming seasons, and if you have a garden, you will be out of doors enjoying warm sunshine soon enough.