With Spring in full swing in Carroll County, Maryland, we've had a flood of customers and friends contacting us for advice about how to make a mulch bed to beautify their homes and add curb appeal. Here are some things to consider for your spring landscaping project, so that you get the most out of your mulch throughout the summer and fall!
How to Make a Mulch Bed | 1. Plan the Edges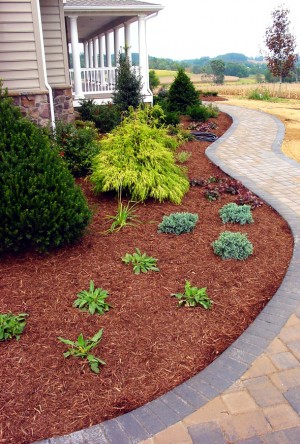 When planning a brand new bed for planting, it is helpful to lay out the perimeter with a garden hose or rope to plan the edges and how they best flow with your landscape. Consider ease of mowing, and walkways to plan border locations. Also, consider the amount of sunlight that will reach the area to determine which plants to choose.
How to Make a Mulch Bed | 2. Planning Depth
Mulching is important to protect the new plants, as it insulates from temperature extremes, conserves water, and improves soil quality as it decomposes. Further, it keeps weeds at bay. A layer of 4" – 6" of mulch is good for a brand new bed, but be sure not to allow it to disperse to less than 3" to ensure that light does not penetrate to the soil below, as lack of light is what will discourage weed seeds from germinating.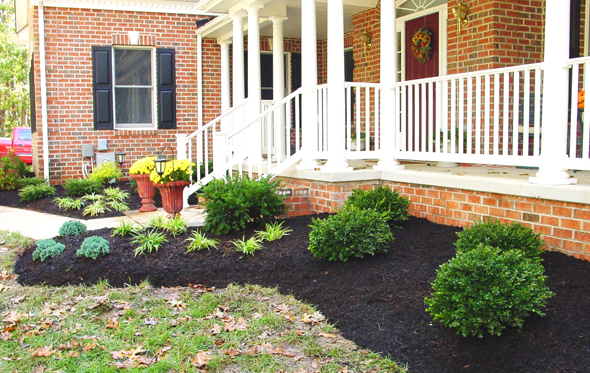 How to Make a Mulch Bed | 3. Edging and Preparing Soil
Dig out the turf or trim it closely to the ground. Other options include spraying the area with Roundup. Adding a rich layer of Screened Top Soil or Top Soil – Compost Mix is a good idea for a new bed, as the soil will be instantly fertile and help your plantings to thrive. Define the edges of your bed by edging it, either with a half-moon edger or spade. There are also Edge-hog tools available with a circular blade on wheels which is superior for creating curved edges. The edge should be refined to a depth of 4" – 6" at a 90° angle, ideally, removing all turf that has been loosened.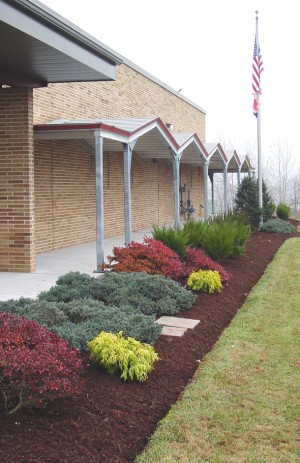 How to Make a Mulch Bed | 4. Weed Deterrant
At this point, if you plan on using plastic or landscape fabric as a weed deterrent, it should be spread over the area. Eventually, these materials can decompose, especially if light is allowed to penetrate to plastic. Biodegradable options include layers of newspaper or cardboard. Consider the flow of water if using a plastic barrier, allowing plenty of space around plants for water to seep into roots.
How to Make a Mulch Bed | 5. Covering the Area
Cover the area with mulch to a depth of 4" – 6", raking to smooth evenly. Allow space around plant stems and trunks to allow the plants to breathe. Smothering stems with mulch can cause them to rot.
Replenishing Your Mulch Bed
Organic mulch should be replenished once each year, either in the spring or fall, as it breaks down into the soil. Replenish with a top layer of 1" – 2". In the fall, vulnerable plants can be covered completely for overwintering. Be sure to uncover them in the spring. Rake to loosen existing mulch. Remove any weeds, either with rake, by hand, or spray with Roundup before spreading on new layer. A freshly mulched bed will beautify your landscape exponentially.