When the weather gets wet and sloppy, stone driveways can become a mud bog. Here are a few tips for maintaining a stone driveway.
While stone driveways are the least expensive to create, they require the most maintenance, in comparison to concrete, asphalt paving, or brick pavers.  The slope, curves, stability of the sub-grade, and climate in your area will be the factors that most influence the amount of maintenance needed.
Stone Driveway Designs
Steeper slopes will need proper grading for adequate drainage away from the driveway, to prevent run-off from eroding and washing away stone. A crown, or higher point, in the center of a driveway helps direct run-off to the edges to prevent pooling of rainwater. Applying an herbicide annually, or bi-annually, as needed, will keep grasses and weeds at bay.
Keeping in creeping grass and weeds from the edge assures a neater appearance. Gravel that is displaced by traffic patterns on curves and areas of stopping and acceleration will need to be raked back into place, or replenished. And finally, the stone that is displaced during snow removal in cold climates needs to be raked back from the yard each spring.
What Types of Landscape Stone Are Best For Your Driveway
Stone should be replenished about every two to three years. Stone should be about 2 – 4 inches thick, depending on conditions.
A stone with an angular shape will lock together, and reduces the movement created by traffic. Smooth rounded stones are better used in low traffic areas or in decorative beds.
A larger size stone, such as 2″ White/Grey Stone, is better for a base, which is needed for stability and drainage.  1″ White/Grey Stone is good for a second layer.
The smaller 1/2″ White/Grey Stone is easier to shovel, and compacts better than larger stone, but consider your climate and traffic patterns, as it will displace a bit more easily. Crusher Run Stone is excellent for a top layer, as the stone dust in it helps the driveway pack down tightly.

An Important Note About Crusher Run Stone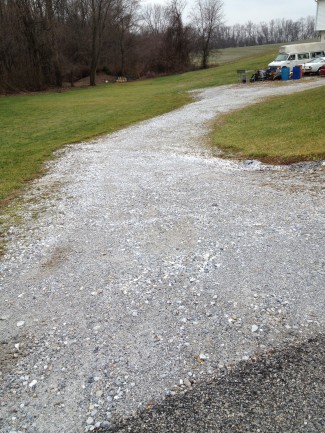 Keep in mind that a driver is often asked to "dump spread" the stone where possible. This saves the home owner from raking and shoveling large amounts of stone. If a driveway is relatively level, and there are no overhanging branches or power lines, a driver can often move the truck along while slowly lifting the truck bed to help spread the stone along the length of a driveway.
While it is difficult to control how evenly the stone falls off the truck bed, it can still save a great deal of labor in dispersing the stone. Crusher Run Stone CANNOT be dump spread, however, due to the fact that the stone dust in it causes it to clump and catch at the base of the dump bed. This can be dumped at intervals along the driveway to be spread by shovel and rake.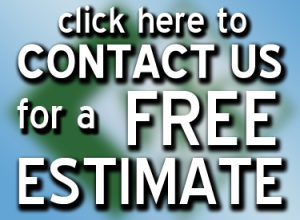 We welcome your inquiries at Westminster Lawn Landscape Supply Yard, and will help you determine how much stone, and which product, is best suited for your driveway. Contact us today for a free estimate!
$79 per yard - $57 per 1/2 yard




Smooth, round tan/cream colored landscape stone. Used for decorative landscaping, walkways, and around pools and waterscapes.