Westminster Lawn Landscape Supply Yards participates in one of our first Home Shows in Maryland
Westminster Lawn Landscape Supply Yards showcased our premium mulches, topsoils, and composts at one of our first home shows in Maryland, sponsored by the Carroll County Times, on October 1st and 2nd, 2011. While the crowd was sparse as the season winds down, the experience was a positive one, and we were able to make contact  some new Maryland and Pennsylvania customers.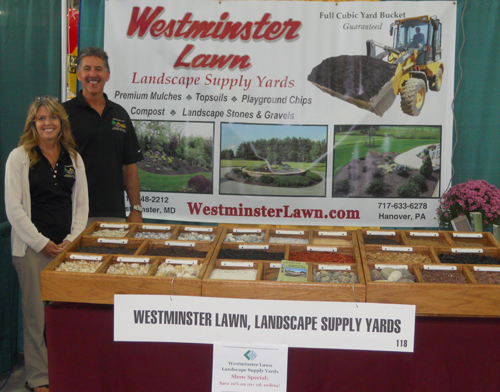 Our banners were created by Runkles Signs, right down the street from us on John St. in Westminster. Our custom wooden display bins were expertly designed by professional Gary Tackett, and work beautifully for the purpose of allowing people to see and touch our premium quality mulches, soils, sand, and landscape stones and gravels. It was nice to see how many people were drawn to our attractive display just to touch the materials and admire the quality.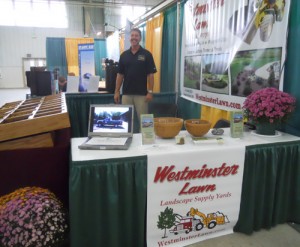 Look for us in Spring 2012 with our booth display at the Carroll County Home Show at the Ag Center Shipley Arena. Pick out the materials that best suit your needs and get information about the quantity you need for your project and delivery. While you are there, check out the many quality vendors at the show with great ideas for home improvement projects, and grab a bite of breakfast or lunch. You will leave with inspiration for many home improvement projects.
As we move into our off-season, we will soon be changing our hours to closed on Saturdays. We utilize winter months to service equipment, and also prepare for snow and ice removal contracts. Hope everyone enjoyed the Fall  foliage and wishing you a Blessed Thanksgiving.