During this busy holiday season, it is so often easy to get caught up in the stress of so many extra chores – shopping, decorating, baking. Gift-giving can become a hassle. Gift certificates are a good option for the hard-to-buy-for person, as it allows them to choose the precise item that matches their tastes and needs. A step-up from simply giving money, a gift certificate can reflect that you at least understand the recipients' preferences. For instance, a gift certificate to their favorite restaurant for a foodie, to a home improvement store for the handyman, or to the movies for a film aficionado.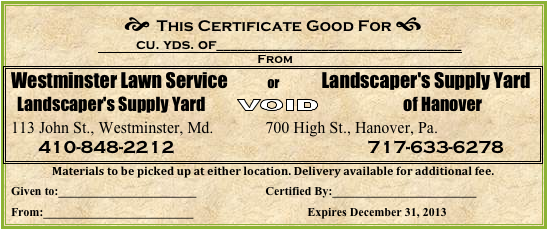 Westminster Lawn Landscape Supply Yards offers gift certificates for any amount. If you know someone with great landscaping around their home, a gift certificate can be used for premium Mulch or Decorative Stone. Driveway Stone is a popular choice for those with stone driveways that get worn down with potholes. Top Soil and Compost are the choice for gardeners. The beauty of gift certificates are that the recipient chooses the exact product that best suits their needs.
Gift-giving shouldn't be so stressful. Remember that there will always be those who have more than you, and those who have less than you. There are always blessings to be counted. To a Christian, the season of Christmas is primarily about Christ's message of hope and renewal. As an intermediary between the human and the Divine, Jesus symbolizes God's love for all humanity, in spite of ourselves. We at Westminster Lawn Service Landscape Supply Yards wish you and yours a very Merry Christmas. Remember the Reason for the Season, and may God bless you richly in the coming year.